Owatonna Fire Department News
By Jeffrey Jackson, Owatonna People's Press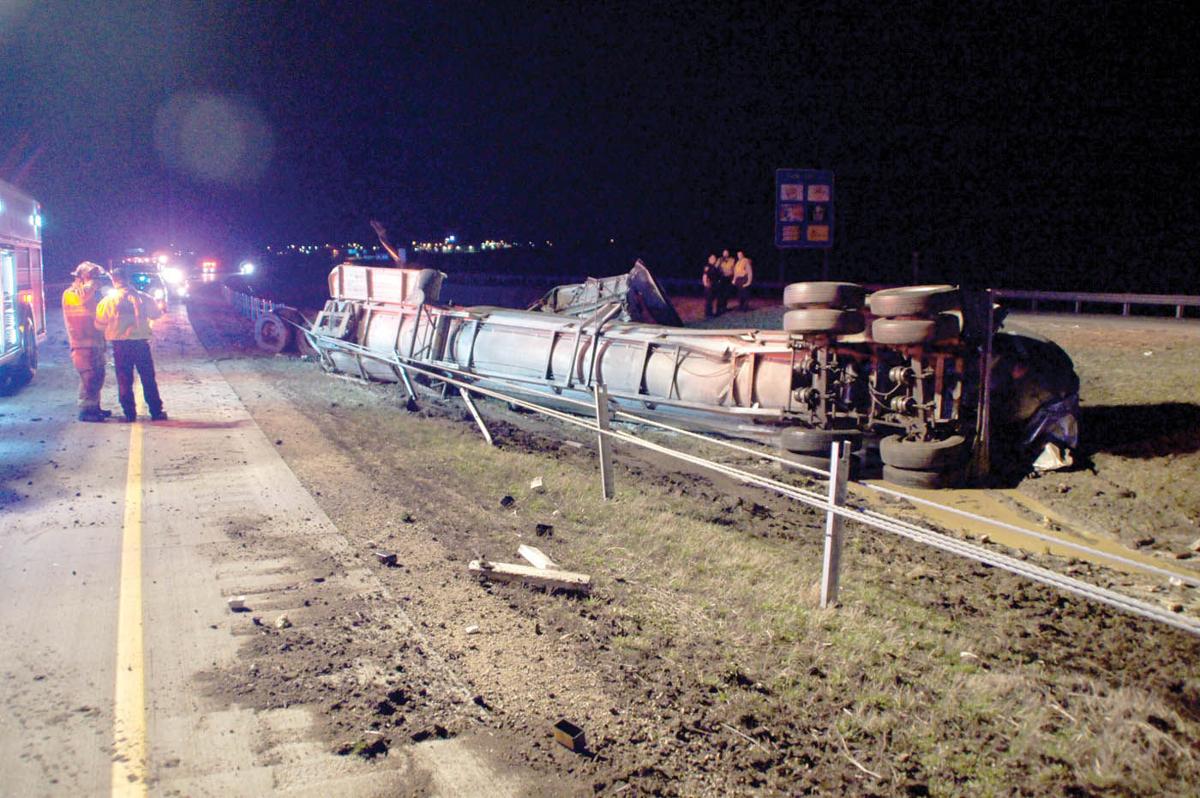 Emergency workers are at the scene of a one-vehicle crash on Interstate 35 in Owatonna Tuesday morning. The cause of the crash, which injured both the driver of the tanker truck and his passenger, is under investigation. (Photo courtesy of the Owatonna Fire Department)

OWATONNA — A tanker truck carrying 48,000 pounds of liquid eggs from Arkansas to Minneapolis crashed on the interstate in Owatonna early Tuesday morning, sending both the driver and his 18-year-old nephew, who was a passenger in the truck, to the hospital with what the Minnesota State Patrol listed as serious injuries.
"It's amazing that anyone was able to survive the wreck," said Sgt. Troy Christianson, a public information officer for the Minnesota State Patrol.
Dustin Reyna, 28, of Fairbanks, Alaska, and his nephew Jorah Maaninga of Menahga, Minnesota, were traveling north in a 2009 Kenworth Semi on Interstate 35 in Owatonna shortly after midnight on Tuesday when the accident occurred, according to the state patrol.
Reyna was driving the truck at the time of the accident, the patrol said.
The truck left the roadway near milepost 41 — south of the Bridge Street exit — and went into the median where it came into contact with a cable median barrier rolled, the patrol report said.
Shift Commander Kelly Hanson of the Owatonna Fire Department said the truck came in contact with the cable barrier, which stopped the truck from entering the southbound lanes. The impact, however, split the tanker section from the cab of the truck and trapped one of the two men — Hanson was not sure which one — inside the sleeper section of the cab. The man had to be extricated from the truck, Hanson said.
The state patrol could not confirm which of the two men had to be extricated from the wreckage.
"It was one of the more critical rescues we've seen out there," he said.
Both men were transported to St. Marys Hospital in Rochester. As of Tuesday afternoon, Reyna was listed in good condition and Maaninga was in the intensive care unit.
Christianson said there was initial concern that the liquid eggs might leak from the tanker, thus contaminating the ground. However, he added, the patrol was able to determine that that had not happened.
"There was no spillage of the egg product," Christianson said.
Hanson said that the cable median barrier stopped the tanker truck from going through the median and into the southbound lanes, possibly preventing a head-on collision.
"It made believers out of us," he said.
It is not known whether the two men were wearing seatbelts or if alcohol was involved, according to the state patrol report.
The truck was totaled in the crash, the report said.
Christianson said the incident has been turned over to the commercial vehicle inspectors to determine what happened, if there was a mechanical defect that caused the crash and what, if any, charges should be leveled.
"And we want to talk to the driver," he said.
In addition to the state patrol, the Owatonna Fire Department and Gold Cross Ambulance, both the Owatonna Police Department and the Steele County Sheriff's Office assisted at the scene.
Reach Managing Editor Jeffrey Jackson at 444-2371, or follow him on Twitter.com @OPPJeffrey

Source: Owatonna People's Press